What people are saying about Root Deco

Crystal Pool by Root Deco is a modern hard/rock album... beautiful vocals and (a) sound that evokes...the 70s…at least it is not another album by a boring band that likes to play this kind of music. Their compositions sound more "honest"...their sound is absolutely authentic! Dead by Morning and Big Parade is very good, as (is) the…hard/blues (song) What's With You. But what stands out is the cover version of Deserted Cities of the Heart (by) Cream, where Root Deco plays fantastically with an acid rock tinge. Fans of authentic 70s sound will be thrilled. gewgawfanzine


Root Deco - Crystal Pool. Root Deco is guitarist Larry Vilchek and drummer Paul Johnson, together with an evolving group of guest musicians and collaborators. Their sound, which is rooted firmly in late '60s psychedelic rock, draws on both the British and American traditions, with stylistic nods to The Yardbirds, the first Grateful Dead album, Jefferson Airplane and The Stones, circa 1966. All good stuff, and the effect is accentuated by their approach to recording, which retains enough essence of garage (not a new scent from Mobil) to convince passersby they're hearing something that just might be the real deal.

Their sixth album begins with "Tough Night", it's heavy rock structure teeters on the edge of Steppenwolf territory, but harmonica fills and an earthy, unpolished finish steers it back to their core ideals. "Dead By Morning" employs a riff that might have been originally located on The Velvets' "Loaded" record, though the song and its arrangement feels utterly contemporary, in a My Morning Jacket / Kings Of Leon way. What I particularly enjoy about Root Deco is their willingness to make use of seemingly incompatible styles to augment their own method. The spiritual hoedown of "Good News Today!" is a case in point. It shouldn't work, but it does, quite brilliantly. The straight-up, Southern-fried retro pop of "Little Black Book" is almost equally out of place, but just as good, and best of all are "Deserted Cities of the Heart" and "Big Parade". Both seem to distill the Root Deco experience in a most agreeable way. Leicester Bangs


Root Deco Sip of Champagne/ Crystal Pool. Sip of Champagne (is a) promotional taster of Root Deco's forthcoming Champagne World album, a joint release from Stone Premonitions and...Stone Island label. S.O.S. is essentially...American...folk-rock, combined with the rawness and noisiness of garage rock. Big Parade is ultra-melodic psych-rock, whilst What's With You? is 70s style heavy rock with bluesy elements. Finally there is a cover of Cream's Deserted Cities of the Heart, presented in the same kind of raw retro rock style as their own material. Truly excellent stuff...The title of this album has now changed to Crystal Pool, but all four tracks from the Sip of Champagne sampler are included here along with eight others. There's raw, intense blues-rock (Tough Night), American-style folk-rock (Dead by Morning, S.O.S. (Different Day), Nightlight), psych-rock (Big Parade), and 70s-style heavy rock (What's With You?) As well as their own material, there are covers of songs by Cream (Deserted Cities of the Heart) and Sharon McMahan (Someday We're Gonna Love Again). Root Deco are onto their sixth album now but show no signs of running out of ideas. Their music is continually recommended for fans of old-school rock in all its forms. Bliss Aquamarine Fanzine


Root Deco is the brainchild of Larry Vilchek & Paul Johnson, with a selection of finely tuned musicians alongside. Musically, psychedelic sometimes bluesy rock, lively songs and power driven vocals. As with all their releases, ("3rd World Planet" represents) an interesting array of songs, this time including 'Question reality," "I Don't Want to Go to Heaven" and the excellent "UFO blues!" If you've not heard this band before, then it's time you did, as they are so easily likeable! Highly recommended by The Overflow. Gary Lee, Starship Overflow, Holland


This one is hot. The guitars (are) solid and ripping, the songs tight and well arranged...its full of energy. It makes me want to revisit the disc often. More airplay coming for this rockin' CD.Don Campau, KKUP California


...really GREAT…personal enjoyment... and airplay guaranteed! Lord Litter, Radio Marabu, Germany


Root Decos's "Rain Steam Speed"...it's well worth checking out if you like mid to late 60's west coast psychedelic rock delivered with real conviction and high octane energy. "Rain Steam Speed"' has...great songs on it. One of these, "Rainbow"...ranks among (the) best...the whole piece has that classic Doors (feel). The social conscience of ("Working Class") comes across strongly. "'Find Myself" is great fun...like a forgotten 45 from a bygone era... Phil Jackson, Paradox One


Love your sound! Very Yardbirds!
Les Lewellyn, Preying Lizard Music


Wow-this is something else. It's like a souped-up answer to classic Jefferson Airplane mixed with a dash of early Springsteen, a touch of Pete Droge, some scorching Kaukonen-Casady-like guitar play and a set of psychedelic bluesiana that hits the spot right from the start and never looks back...and some wicked guitar work not to mention a corking rhythm section throughout. This is phenomenal stuff. Andy Garibaldi, CDS


First thought, Egypt. Second thought, Led Zeppelin. Root Deco is Paul Johnson and Larry Vilchek combined with 6 and 12 stringed guitars, low tuned drums and feedback. The show stopping rhythm section and the virtuosity of the guitars shows off the influence of The Yardbirds. Easily classified as a rock, blues rock, or heavy metal band, Root Deco has taken their..."Dragon Rings a Bell"...album three hundred and sixty degrees and explored varies styles...("Dragon") proves that the golden age of music occurred in the age of Led Zeppelin, The Doors, Van Morrison and Dylan. The front cover art work is a deceiving display of the music contained in the CD. One would never know it from the awe-inspiring, dirt-raw rock that is uncovered once the plastic seal is removed from the album. Don't pass this...up.
Courtney Vanderbeck, Music News Nashville



Crystal Pool. So there I am driving along in my car. I'm on the A9 northbound and all I've got to do is count the speed cameras until I run out of fingers and listen to hard driving rock music. That is how it came to pass that Root Deco's "Crystal Pool" album became my temporary new best friend... the music of this band makes for a fine traveling companion with more than enough variety to stop you from crashing into the nearest petrol tanker. Hammering their way through the rock sub genres seems to be the way to go for Root Deco with the wholesome southern rock of "Good News Today" sitting nicely alongside the gritty sixties flavored power chords of "Big Parade" and a venture into blues rock territory ("Doctor") works out just fine too...devoid of pretension, "Crystal Pool" is the kind of album that would make for the perfect soundtrack to Friday night blue collar beer drinking. Or long distance driving for that matter. Bluesbunny


ROOT DECO Third World Planet. The music on Third World Planet begins with a basis of raw bluesy rock, adding further influences from psych, prog, and occasionally folk. As always with Root Deco, the music sounds authentically vintage, and you get the feeling that the band have a total, genuine immersion in their chosen type of music - it's not just a fashionable veneer like some revivals of retro-rock have been. A lyrical theme of freedom of thought runs through the album; there's songs with messages against conformity and social injustice, and songs about UFOs...Fins and Fangs is particularly worthy of further discussion for a number of reasons. First, it includes guest guitar from Tim Jones of the Stone Premonitions musical collective. Secondly, it is the track with the most obvious folk influence, including a medieval-tinged folk-rock riff that works really well. Thirdly, you've got to admire the lyrical sentiment: the song begins with the lines "Conformity's nice, you always know just what to wear/And what to think, and whether or not to care", setting the scene for an ironic critique of 'sheep' type thinking. Snow on the Roof is 70s-ish rock with a massively catchy chorus, and Red Head Walking is a grunge-blues-rock cover of a Beat Happening track. Bliss Aquamarine Fanzine


Root Deco's "We Come in Peace"...Old school Psychedelic rock ala 1960's era bands. Root Deco takes Psychedelic folk rock into a completely different hemisphere, bringing with them the newly acquainted space rock in the midst of their progressive stylings...the music sounds...more complex...than from that time. The solos are about as extreme as it can get for rock...solos that walk along the walls with their colorful effects. There is even some jazz fusion influence to be heard throughout the release. Any psychedelia fan should really get off on this album...old school rockers looking for a nostalgic kick should also check this out. Lord Lycan at Heathen Harvest


Root Deco's Dragon Rings a Bell, We Come In Peace, Rain Steam Speed CDs...Three albums from this very impressive retro rock band. Their music is a kind of raw psychedelic roots-rock with an authentically vintage (late 60s/early 70s) feel. As an American band, much of their folk influence comes from American folk music, but they also show a certain amount of inspiration from British folk music, and incorporate touches of this to great effect in songs like "Kind of More or Less." This album also includes "Bluesday," a song that reminds me a little of early Delta. "Piper" is upbeat country-rock, using humor to get across a serious message on environmental destruction. "Shallow Man" is doom-laden psych-rock. "I Don't Want To Go To Heaven" is basically country-rock, but with a Celtic twist. "Eyes in the Back of My Head" has lyrics that see with bitter hatred and anger, matched by the searing, crunching guitar. The title track of the next album "We Come In Peace" sets a medieval folk ballad-like melody to riotous psych-rock instrumentation. "Dress For Success" is a tongue in cheek ode to power dressing set to fierce heavy rock. "Postcard" combines rock, pop and jazz and introduces female vocals, courtesy of the producer Heidi Gerber. "Stone God" is a folk-rock piece lamenting the modern tendency to bury nature underneath faceless concrete buildings. "Abduction" and "Passing Fantasy" are angular experimental rock. Moving on to the next album, "Rain Steam Speed," we have here "O'Ryan in the Underworld," a crazed mix of garage rock, blues and folk; the Eastern-tinged psych-rock of "Rainbow;" "Find Myself," a more cheery, poppy number than is the norm for this band; the medieval-inspired folk-rock of "Alfonso;" and the jangly pop meets American-style folk-rock of "Big Parade," amongst other tracks. The album ends with the hugely catchy "49," a song that encapsulates the band's enthusiasm for music: "You don't stop playing when you grow old, you grow old when you stop playing". Too right as well! Very high quality stuff; fans of various sub-genres of retro rock really ought to investigate what this band has to offer. Kim Harten, Bliss/Aquamarine Fanzine


This ROCKS!!! Judging from the list of who I think they sound like, this band can successfully go any way it wants: heavy metal, heroine rock, blues rock--it's all good. Brings To Mind: Led Zeppelin, Dylan, The Cramps, Lords of the New Church, Hoodoo Gurus.
MotherLoveVibe, South of Mainstream


Root Deco's " Dragon Rings A Bell"...(has the) right mix of styles, from the jolly hockey sticks of "Piper" to the almost early period Hawkwind(ish) "Shallow Man." Twelve tracks in all that go through three hundred and ninety degrees of styles...the boys deliver each and every track with confidence. (Dw) Modern-Dance, the A-Z Music Review Magazine


---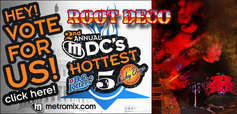 "I Don't Want to Go to Heaven," "Pinwheels," "Postcard," "Hole in the Sand" and "Arise" win honorable mention in Billboard's 13th, 14th and15th Annual World Song Writing Contests; "Rain-Steam-Speed" selected as album of the month in 2013 by Paradox One. Recently RD placed as a semi-finalist in the 2014 Song of the Year contest.

Root Deco was selected by Metromix as one of Washington DC's hottest bands and selected by Little Steven's Underground Garage as one of Washington DC's top three garage bands.

"O'Ryan of the Underworld" featured on Moonhead Magazine's International Underground CD, Volume 5.

---